Expressions
God draws us into relationship in a wide variety of ways. For those who prefer visual images, we have created contemplative meditation journeys (PowerPoint) to download and enjoy.

Molten Love
by Wanda Schwandt 2004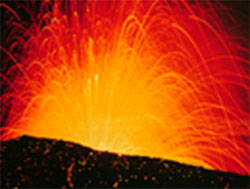 A volcanic journey from destruction to regeneration. (PowerPoint for use as a contemplative meditation)
When we feel devistated and wonder if we can recover from tragic events in our lives, we find that God is in the process of creating something beautiful out of chaos. Our lives can hold meaning again as we stay connected to God's infinite love.
(Original Poem by Wanda Schwandt, Images are of Mt. St. Helens and Hawaiian volcanoes) You may want to open it into a New Window of your browser. Please allow time to download.